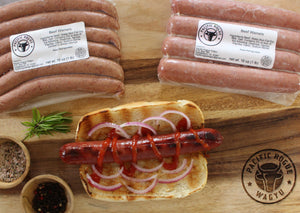 All orders ship out on Tuesdays via USPS, excluding holidays, and will typically arrive within 1-3 days of shipment.
*Due to natural variations in our cattle, shape, size, and/or weight of individual cuts may vary. Your selection will be rounded to the nearest available weight increment
• ALWAYS RAISED RIGHT • GUARANTEED
The Knoxes are considered a pioneer family where American Wagyu is concerned, raising 100% genetically pure full-blood Wagyu on their Oregon ranch.
The cows at Pacific Rogue are pasture raised and grain finished, never receiving growth hormones or unneccesary antibiotics.