What are your shipping rates?
At Pacific Rogue Wagyu, we do our best to minimize the cost of shipping. However, shipping perishable products is expensive. We encourage you to participate in our Box Return Program to minimize your next shipping cost, and it's environmentally friendly!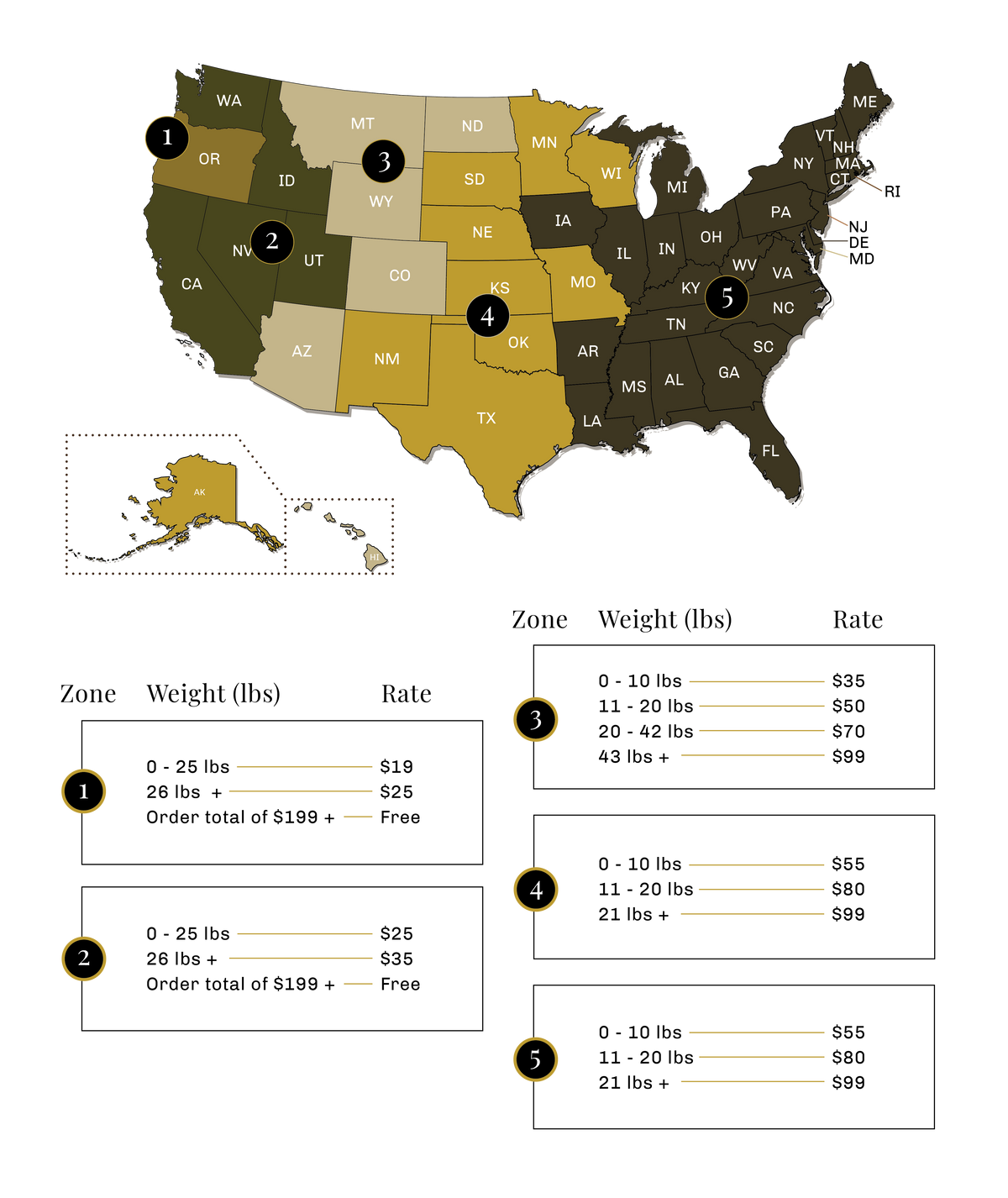 Where do you ship to?
We ship everywhere within the contiguous United States. See our "Shipping Rates" above to determine.
What is the Box Return Program?
Glad you asked! Please mail your PRW box back to us and receive a discount on your next order. You will receive $10 off your next order PLUS good karma points for helping our environment reduce, reuse, recycle!
As a small family farm, returned boxes really help!
Option 1: Mail it back by USPS Media Mail
US Postal Service offers a discounted shipping rate ($3-$5) for Media Mail packages. Simply put a used book or CD in the box and return to:
Pacific Rogue Wagyu
PO Box 194
Wedderburn, OR 97491
How do I ship using Media Mail?
1. Place a book/s or CD in the box (ONLY the media - additional items will disqualify)
2. Close it up, and it's ready to go!
3. Add the appropriate postage or visit your local USPS to purchase:
• $3.09 (2lb - small box (18x12) + light book)
• $3.57 (3lb - small box (18x12) + medium weight book)
• $4.05 (4 lb - medium box (24x18) + medium/heavy book)
• $4.53 (5 lb - large box (30x17) + medium/heavy book)
4. Drop it off with USPS and let us know to expect it! Once we receive it, we'll send you a coupon for your next order.
How is the Wagyu packaged and shipped?
We ship our products in frozen and individually vacuum sealed packages placed in an insulation-lined cardboard box with dry ice or gel packs. Orders should arrive frozen, partially thawed, or thawed but cold, depending on the time in transit.
With UPS Ground Shipping, our frozen product will typically arrive completely frozen or partially thawed. It is likely that all of the dry ice will be evaporated. Our insulated packaging will ensure the product remains cold.
When do orders go out?
All of our orders ship on Tuesdays, excluding holidays. Orders must be placed by 7am pst on Tuesday to ship that day. All orders placed after 7 am on Tuesday will ship the following Tuesday.
Return Policy
All sales are final, we do not accept exchanges or returns.
Do you wholesale?
Yes, you can find our beef in multiple butcher shops and top restaurants on the west coast. Contact us to discuss bringing Pacific Rogue Wagyu to your establishment.
Can I purchase in bulk for discounted rates?
Yes, we sell 1/4, 1/2, and full animals. Contact us for inquiries on wholesale pricing of bulk purchases.
How can I purchase your meat?
You're in the right place! Purchase our beef through our online store, here, and have it delivered straight to your door! You can also consistently find our product at Sonoma Meats in Santa Rosa or our F1s via crowdcow.com.
What is the maximum weight I can order?
Maximum weight of each order is 60 pounds - as much as our boxes can handle! If you want more meat, please place additional orders in increments of 60 pounds or less.
Am I able to track my delivery?
Yes, we send delivery status updates via email and/or text message.
How is your beef processed?
All of our beef is processed in approved and inspected USDA facilities in the State of Oregon.
Can I buy grass fed beef?
At Pacific Rogue Wagyu, we firmly believe that the quality of wagyu is made most exceptional when we can maximize the marbling. This unique traits of wagyu cannot be realized to its fullest potential on a lean diet of grass alone. That is why all of our animals are pasture raised, but finished on a 500+ day proprietary regimen specifically formulated for the wagyu breed. Trust us, it's better this way.
What's the difference between Kobe beef and Wagyu?
Kobe Beef is a variety of Wagyu. Wagyu, translated from Japanese, means "Japanese cattle" . So "Wagyu" refers to any cattle that is bred in Japan or the Japanese-style. Kobe beef is comprised of a very particular strain of Wagyu called Tajima-Gyu that is raised to strict standards in the prefecture of Hyogo (Hyogo's capital city is Kobe). At Pacific Rogue Wagyu, we raise Wagyu with Kobe genetics, but raised in Oregon and thus cannot bare the "Kobe" name, although the genetics trace back to the Original Kobe Beef.
As a result of these breeding methods combined with longer periods for fattening, Wagyu cattle have an unparalleled level of marbling. Wagyu marbling is also better tasting. Wagyu fat melts at a lower temperature than any other cattle's, resulting in a rich, buttery flavor unseen in other strains of beef. This fat is also unsaturated and high in Omega-3 and Omega-6 fatty acids, meaning not only is Wagyu marbling more delicious, it's also more healthy
How do I know my beef is full-blood wagyu?
All of our animals are DNA tested and registered with the American Wagyu Association. We can provide registration paperwork for each animal upon request